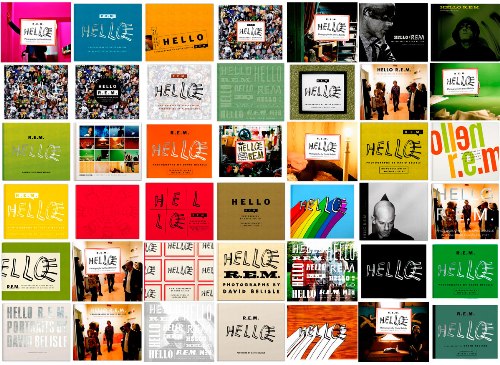 Seattle-based designer extraordinaire Corianton Hale (check back to the site in the next few days for more splendid Corianton Hale designs) recently designed a book of photography by acclaimed photographer David Belisle. As the book's title makes obvious, R.E.M.:Hello centers around one of everyone's favorite bands of all time.
I pre-ordered my copy on the Chronicle Books website a few weeks ago (as soon as it hit the website) in an effort to score one of the exclusive R.E.M.: HELLO posters (limited edition and hand-numbered) which features original artwork by designer Corianton Hale.
Alas, 250 faster clickers must have gotten there before me because my book arrived without the cool poster. Sadness. I'd be even sadder if I hadn't been so taken with the book. It is a substantial work that puts the reader backstage and on the road with REM with beautiful photographs and scrawled captions to depict the quirky and, dare I say human, side of the REM phenomenon. There's also a picture of Michael Stipe and Conor Oberst touching on page 142.
And what could make all that design, photography, REM goodness better? Tangibility!
You can skip the whole order-online step and get your copy of the book and get it SIGNED!
This Tuesday night (June 24th) at Easy Street – West Seattle, you can purchase your copy of the book and have it signed by the photographer, the designer, and the guitarist (PETER BUCK!!!).
The trio will be signing books from 7-8 pm, and the party will continue until 10 pm.
Who will be your book this season?