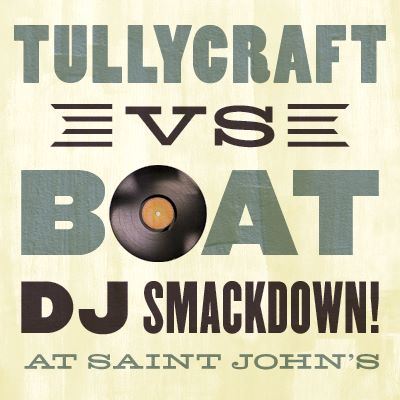 This Thursday (4/25), Tullycraft and BOAT will take to the DJ decks at Saint John's to battle it out Seattle pop band stylee.
If two bands could be brothers separated at birth, it would be these two groups of guys (and one very sweet lady). Both have brand new records out (each with an LP version on fancy colored vinyl), both are on Magic Marker Records, and both bands have a very near and dear place in our imaginary hearts because they write amazing pop songs deserving of placement in a beer commercial.
From 5pm-8pm (those are some *happy* hours), the two bands will take turns playing a song or two from their new albums as well as selections that inspired their own songs. Since they love music as much as you and I do, there will also be a bunch of dusty gems (in the form of OOP b-sides and the like) unearthed from their record collections that will make us all scream with delight.
Both BOAT and Tullycraft have promised to "embarrass and delight each other, and hopefully you too."
Added bonus, Saint John's (719 E Pike, in Capitol Hill) has super tasty drink and munchable happy hour specials to fill your tummy as you listen to all those super tasty tunes. And it's all FREE! 21+.