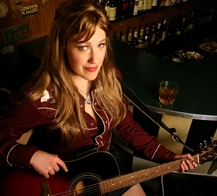 Joanna Horowitz, writer and performer of last February's fantastic 100 Heartbreaks, returns to the local stage in another country-fried music-based show this weekend.
From the starlet herself:
Just a heads up that a really awesome project I'm working on is about to open this Friday (Sept. 12). I'm acting in two shows at Live Girls! Theater as part of The June Carter Cash Project. It's an evening of three new short plays based on the songs of June Carter Cash (you know, Mrs. Johnny…). "Ring of Fire," "Jackson," and "Losing You" were the inspirations. The result is some awesome country-fried tales of cheating, heartbreak, family, cake baking, sex, drinking, love, and, of course, music (in fact, I sing in one of the plays!). And for anyone balking at an overdose of country, the play based on "Ring of Fire" is a crazy awesome movement-based piece that has pretty much nothing to do with "y'alls" and what not.

A small caveat, which might be awkward depending on my relationship with you, but in one of the plays I am in just my underwear. I'm OK with it, if you are.
Can't wait! The details:
LIVE GIRLS! theater presents the June Carter Cash Project
Sept 12 – Oct 4
Fri and Saturday Nights 8pm, Sat Afternoons 4pm
Special Monday PWYC night September 29th 8pm
Advance tickets at Brown Paper Tickets
All Shows at Live Girls! theater in Ballard, 2220 NW Market, Lower Level
livegirlstheater.org