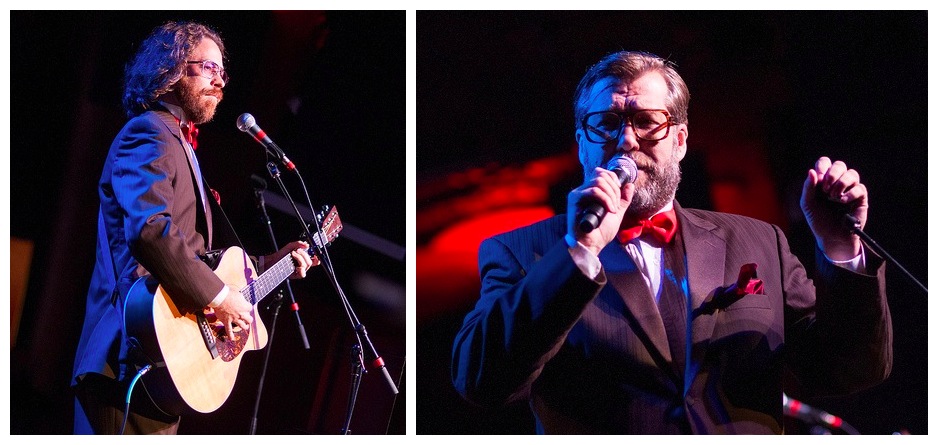 I know you haven't even had the chance to gorge yourself on turkey yet — don't get all in a panic you guys, but really, it's time to start thinking about Christmas. And not just what gift to give your new in-laws (liquor) but the more important questions, like what music will rock the seasonal spirit into your festive holiday soiree. Thanks to the latest collaboration between John Roderick and Jonathan Coulton, One Christmas at a Time, you're no longer stuck with only the standards like "White Christmas" to choose from. Hooray!
On one hand, you've got a John: (Roderick) is most familiar as the front man of local band The Long Winters and his column in the Seattle Weekly. He's brought his indie vibe as a guest musician with bands like Harvey Danger and Death Cab for Cutie. On the other hand, a Jonathan: (Coulton) became an internet sensation after lyricizing the wonders of geekdom in the song "Code Monkey" and his cover of "Baby Got Back." For those of you keeping score at home, these two quirky singer-songwriters also collaborated previously on the 2011 album Artificial Heart.
Now they've applied their stellar talents to creating a slew of new Christmas classics (plus one Hanukkah song!) that will be enjoyed by generations to come! Their clever humor and whimsical lyrics are showcased on tracks like "2600," an ode for the gaming generation that will replace "I Want a Hippopotamus for Christmas" in the hearts of geeks nationwide. "The Week Between" makes the wasted week between Christmas and New Year's (seriously, does anyone get any work done in those five days? c'mon Feds, just give us the week off already!) seem shiny and bright, instead of a gift-returning, stuck-with-family, drunk-fighting holiday nightmare.
All this and more can be yours — it's on sale now! — starting at only $10 for the digital download version. They've even been nice enough to set you up with the perfect holiday gift package: for $55.00 you get a custom-designed gift box, a signed CD, the official "One Christmas at a Time" t-shirt (that looks like the most amazing Christmas sampler sweater, BTW), a custom Christmas ornament, and other surprise swag. What's that? Oh, snap! Your shopping's done!
Get the whole scoop on ordering here.
{Photo of Jonathan and John by Victoria VanBruinisse, courtesy of SIC 2012. Please do not reproduce without permission.}