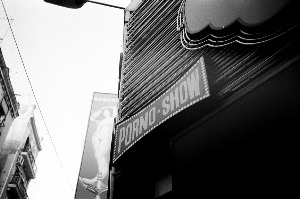 Last night at the Crocodile, igDana and I ran into our effervescent friend Heather. Over the course of the convo, the topic of John Vanderslice came up and, well, her pro-John enthusiasm was so infectious that I searched out his album when I got home to listen to a couple tracks.
Is it just by chance that there was an email from Mr. Vanderslice in my inbox this morning chock full of info about his upcoming tour, free mp3s of a Scott Solter Remix of John's Pixel Revolt album, and a slideshow of his detailing his growing obsession with gothic cathedrals? I think not.
And, here's an extra EXCITING note John mentioned in the email:
If you'd like to sing LEAD VOCALS on a song, please find us before the show and we'll bring you onstage. Try to learn two songs in case we don't know your first choice. If you want to PLAY BASS, bring it (don't worry about the amp) and learn either 424 or My Old Flame. It'll be a free for all.
Who needs American Idol when you have JV?
For those interested, you can access the "Scott Solter Remixes Pixel Revolt In Analog" on JV's website! I'm not sure how long the links will be up… so grab 'em now!
What more? Check out John Vanderslice's slideshow of tasty photos taken from his recent tours:
And, get out the map, he might just be coming to a town near you!
April 6 | PORTLAND, OR
Doug Fir Lounge

April 7 | SEATTLE, WA
Triple Door | all-ages

April 9 | SALT LAKE CITY, UT
Kilby Court | all ages

April 10 | DENVER, CO
High Dive | all ages

April 12 | AMES, IA
Maintenance Shop | 18+

April 13 | CHICAGO, IL
Lakeshore Theatre | all ages

April 14 | GRAND RAPIDS, MI
Ladies Literary Club | 18+

April 15 | ATHENS, OH
Ohio University / The Union | 18+

April 17 | PHILADELPHIA, PA
Johnny Brenda's | 21+

April 18 | HOBOKEN, NJ
Maxwell's | all ages

April 19 | NEW YORK, NY
Mercury Lounge

April 20 | CAMBRIDGE, MA
Middle East | 18+

April 21 | HAMDEN, CT
The Space | all ages

April 24 | BALTIMORE, MD
Sonar | all ages

April 25 | WASHINGTON, DC
Rock and Roll Hotel | all ages

April 26 | CARRBORO, NC
Local 506 | 18+

April 28 | CHARLESTON, SC
Map Room | 21+

April 29 | COLUMBIA, SC
Art Garage | all ages

April 30 | ATHENS, GA
40 Watt | 18+

May 1 | BIRMINGHAM, AL
Bottle Tree | all ages

May 2 | ST. LOUIS, MO
Billiken Club | all ages

May 3 | SPRINGFIELD, MO
Randy Bacon Gallery | 18+

May 5 | DENTON, TX
Dan's Silverleaf | 18 +

May 6 | AUSTIN, TX
Emo's | all ages

May 8 | PHOENIX, AZ
Modified | all-ages

May 9 | SAN DIEGO, CA
Casbah | 21+

May 10 | LOS ANGELES, CA
Largo | all ages with dinner reservations
All that AND he's got his next album coming out in August. Someone break him off a piece of that a KitKat bar!