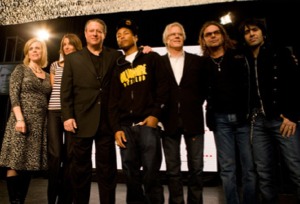 I'm not one to point out the shortcomings of massive undertakings aimed at positive change… BUT, the Live Earth Concert folks just announced the line-ups for the US and UK legs of the 7-continent, 24-hour Live Earth concerts on 7/7/07, and it's left me fairly uninspired.
The US concert will be held at Giants Stadium in New Jersey with the goal of raising awareness of global warming. Live Earth Founder and Executive Producer Kevin Wall said "Capping Live Earth with a blockbuster show like this will ensure we meet our challenge of building a mass audience to combat global warming," Wall said. "Live Earth will be a monumental event both in terms of entertainment and in turning the tide against global warming."
I am guessing that AFI is their "alternative" act. Is Melissa Etheridge there to address the country music population? I guess the way to get into the consciousness of the people who aren't convinced that the issue of global warming needs to be addressed, is to pummel them with live performances by their favorite bands. If those bands happen to be on the boring side… well, more power to them, right?
Perhaps they are trying to set the record for the largest gathering of musically bland performances ever? Can't the END or someone sponsor a side stage outside by the bootleg t-shirt vendor with more interesting bands?
The UK line-up is *so* much better. And, it isn't even that good! I'm really surprised that Bono didn't curate it something. Even the Foo Fighters realized that the UK was better and signed on there. I'm trying not to let my jealousy turn into disgust over the whole event.
Let's compare and contrast the line-ups:
US line-up:
AFI
AKON
ALICIA KEYS
BON JOVI
DAVE MATTHEWS BAND
FALL OUT BOY
JOHN MAYER
KANYE WEST
KELLY CLARKSON
KT TUNSTALL
LUDACRIS
MELISSA ETHERIDGE
RIHANNA
ROGER WATERS
SMASHING PUMPKINS
THE POLICE
UK line-up:
BEASTIE BOYS
BLACK EYED PEAS
BLOC PARTY
CORINNE BAILEY RAE
DAMIEN RICE
DAVID GRAY
DURAN DURAN
FOO FIGHTERS
GENESIS
JAMES BLUNT
JOHN LEGEND
KEANE
MADONNA
PAOLO NUTINI
RAZORLIGHT
RED HOT CHILI PEPPERS
SNOW PATROL