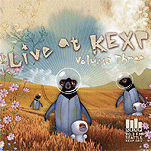 It's easy to take so much for granted as a music fan in Seattle: fabulous free in-stores at Easy Street and Sonic Boom, scores of great local bands to explore, and of course, the 24/7 free and accessible music on the wonderous 90.3 KEXP. We are very, very lucky…
One amazing feature KEXP offers is an astonishing array of live in-studio performance. It seems like nearly every day, there's a touring or local band play live on the airways for us to enjoy.
For the third year running, KEXP has issued a limited edition release of some of their favorite in-studios from the past year, and today is the lucky day when Live at KEXP: Volume 3 becomes available worldwide. The list of artists is most impressive: the Long Winters, Cloud Cult, Beirut, the Gossip, Peter Bjorn and John, and Billy Bragg, just to name a few of the 17 featured, and all tracks are one-of-a-kind live performances. 
And check this out: you can listen to 30 second samples from each song on the KEXP website. And then you can buy the CD. All money from the CD sales go to support KEXP. 
Lucky, lucky us!