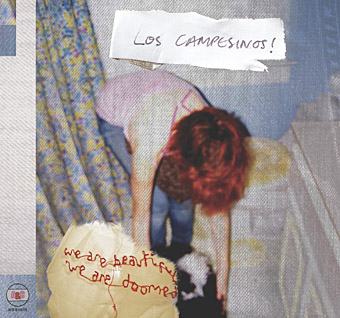 Finally a bright spot in the news: The NEW Los Campesinos! album, titled We Are Beautiful, We Are Doomed (Arts & Crafts), is going to be released November 25th!
The physical awesome digipack ultra sup'd up package of the album releases in late November, but you can hear the full album as soon as you pre-order it! Like right now!!!
The album was recorded in Seattle (as if we needed another reason to hold this release close to our hearts) and the physical release includes the cd, fanzine, poster, DVD and probably some magic dust (while supplies last). The fanzine includes the album lyrics and artistic contributions from Xiu Xiu, Grandaddy, Tender Forever, Menomena, Parenthetical Girls and Paul Heaton around the the title.
I am tearing up with excitement just looking over the tracklisting:
1. Ways To Make It Through The Wall
2. Miserabilia
3. We Are Beautiful, We Are Doomed
4. Between An Erupting Earth And An Exploding Sky
5. You'll Need Those Fingers For Crossing
6. It's Never That Easy Though, Is It? (Song For The Other Kurt)
7. The End Of The Asterisk
8. Documented Minor Emotional Breakdown # 1
9. Heart Swells/Pacific Daylight Time
10. All Your Kayfabe Friends 
I am now counting down to the announcement of their tour plans. Anyone heard anything about that?