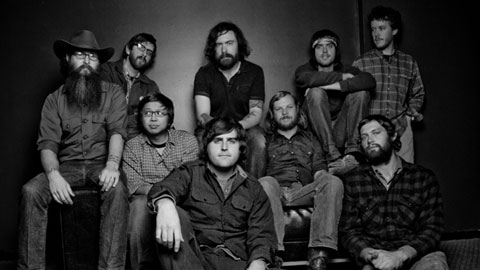 One of our favorite country/Southern, by way of Ballard, rock bands, The Maldives, are set to score the 1925 classic silent western Riders of the Purple Sage at The Triple Door Tuesday night for two, one-night-only shows.
The story (and film) are highly regarded as influential to many westerns to follow. This version stars Tom Mix and Mabel Ballin. The film and story have also influenced some rock bands to come after, including a handful of bands named Riders of the Purple Sage and, unrelated, New Riders of the Purple Sage. Wikipedia summarizes the story as such:
Riders of the Purple Sage tells the story of Jane Withersteen and her battle to overcome her persecution by members of her Mormon church, the head of which Elder Tull wants to marry her. Jane Withersteen is supported by a number of Gentile friends, Bern Venters and Lassiter, the famous gunman and killer of Mormons. Throughout most of the novel she struggles with her "blindness" in seeing the evil nature of her church and its leaders, trying to keep both Venters and Lassiter from killing her adversaries who slowly ruin her. Through the adoption of a child, Fay, she abandons her false beliefs, and discovers her true love.
{The Maldives score Riders of the Purple Sage on Tuesday, May 25 at 7 and 9:30pm, the first show is all-ages. Tickets are $16 adv/$18 DOS. For more info and to purchase tickets, click here.}