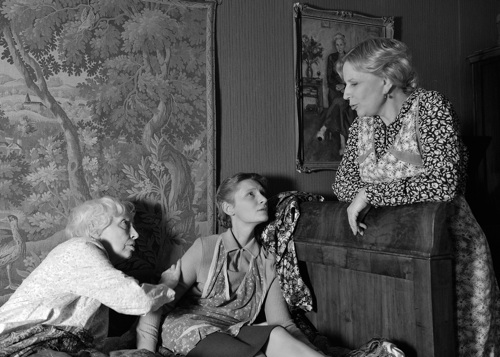 The Reverse is a sharp-witted dark comedy that centers on three generations of women living in a small apartment in communist Poland during the 1950s. 
Shy book editor Sabina is approaching "Old Maid" age and her mother and grandmother seemed obsessed with finding her the ideal mate. A chance encounter with a handsome stranger leads to a passionate romance, but the circumstances surrounding his arrival are shrouded in mystery. Once revealed, they result in drastic measures that catapult the three women down a dangerous path. 
Flashing forward to the future (shot in color to contrast the period black & white pieces), an elderly Sabina is shown waiting at a station for a visitor to arrive and more pieces of the puzzle are revealed.
The fantastic acting, costumes, sets and keen humor of this flick kept me interested, but the past sequences definitely had more impact. That said, the fun of viewing this one lies in piecing the events of past and future together. 

{The Reverse screens at SIFF May 24, 9:15pm, June 8, 7pm and again June 9, 4:30 pm at SIFF Cinema}