After an 18 hour delay (which included an overnight stay in Houston), I'm finally home from SXSW. Holy shite, it ruled. Liz and I are gonna tell you all about it… um, after we nap it off.
But I do have to say that ZOMG I MET AMY WINEHOUSE!!!!!!!!!!!!!!!!!!!!!!!!!!!!!!!!!!!!!!!! And I saw her play twice. She was incredible.
Just look at us in our matching white tank tops (coincidence?? I think not). It's like we're BFF, no?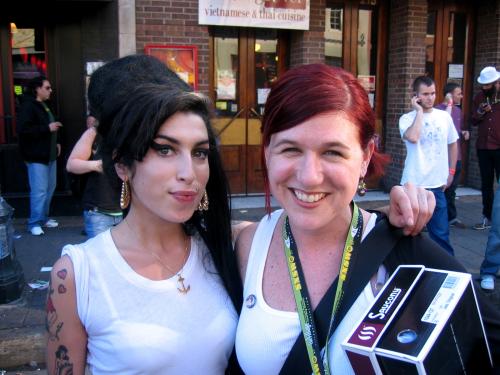 Not familiar with the amazing Ms. Winehouse? You should read the Mad Professor's glowing review of her latest record, Back to Black. And of course, check back in the next few days for our full-on SXSW run-down.