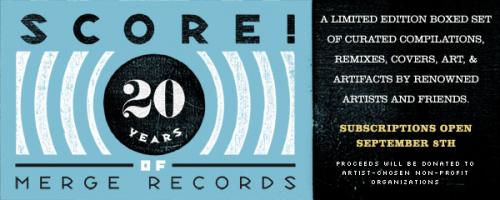 Merge has done it again! For their 20th anniversary, a part of the brilliant subscriber only compilation series SCORE, the Chapel Hill label (run by none other than members of my favorite indie rock band, Superchunk) is releasing a compilation of covers of Merge bands by a ton of non-Merge artists.
Check it out:
01 Quasi: "Beautiful Things" (3Ds cover)
02 Les Savy Fav: "Precision Auto" (Superchunk cover)
03 The Shins: "Plenty Is Never Enough" (Tenement Halls cover)
04 St. Vincent and the National: "Sleep All Summer" (Crooked Fingers cover)
05 Broken Social Scene: "Complications" (The Clean cover)
06 Ryan Adams: "Like a Fool" (Superchunk cover)
07 Bright Eyes: "Papa Was a Rodeo" (Magnetic Fields cover)
08 Lavender Diamond: "New Ways of Living" (Destroyer cover)
09 The Apples in Stereo: "King of Carrot Flowers Pt. 3" (Neutral Milk Hotel cover)
10 Laura Cantrell: "Cowboy on the Moon" (Lambchop cover)
11 Bill Callahan: "Santa Maria" (Versus cover)
12 Barbara Manning: "Through With People" (Portastatic cover)
13 The Mountain Goats: "Drug Life" (East River Pipe cover)
14 The New Pornographers: "Don't Destroy This Night" (Rock*A*Teens cover)
15 Tracey Thorn and Jens Lekman: "Yeah! Oh, Yeah!" (Magnetic Fields cover)
16 The Hive Dwellers: "My Noise" (Superchunk cover)
17 Ted Leo & the Pharmacists: "The Numbered Head" (Robert Pollard cover)
18 Okkervil River: "All You Little Suckers" (East River Pipe cover)
19 Death Cab for Cutie: "Kicked In" (Superchunk cover)
20 Times New Viking: "Neighborhood #1" (Arcade Fire cover)
Death Cab covering Superchunk! Apples In Stereo covering Neutral Milk Hotel! Tracey Thorn (of Everything But the Girl and Marine Girls!) and Jens Lekman covering the Magnetic Fields! So many exciting things. 
While the rest of the series is subscriber only (and sadly, the subscriptions are sold out… gotta look for that stuff on e-bay), this compilation is available for pre-order to the general public now!
If you were in a band, what Merge cover would you do? Personally, I'd probably pick "Detroit Has a Skyline" by Superchunk or "Plant White Roses" by the Magnetic Fields. What about you?