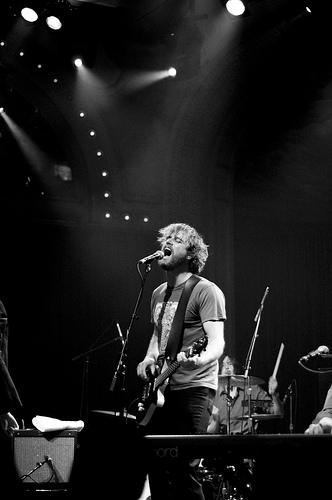 Day two at MFNW: also known as Friday, September 10th. With tons of shows all over the city to choose from, we chose to spend our imaginary day with the folks over at KEXP for a series of kick-ass in-studios, and to focus on the highly anticipated Okkervil River / Bobby Bare Jr. and Tallest Man On Earth / Cave Singers sets that night.
Friday morning at the Doug Fir, with Bobby McHugh: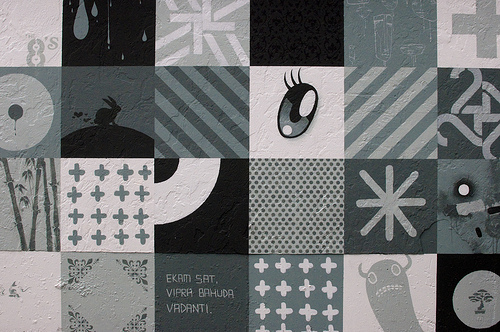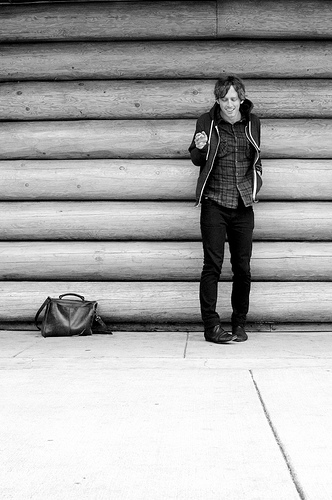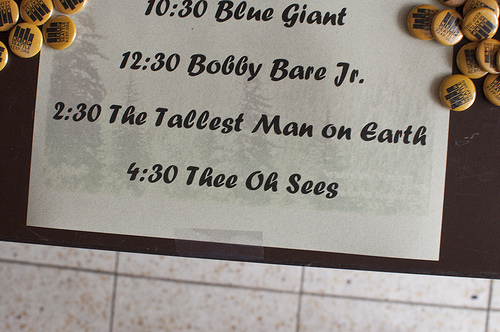 Bobby Bare Jr. and his de-lovely band, in-studio for KEXP: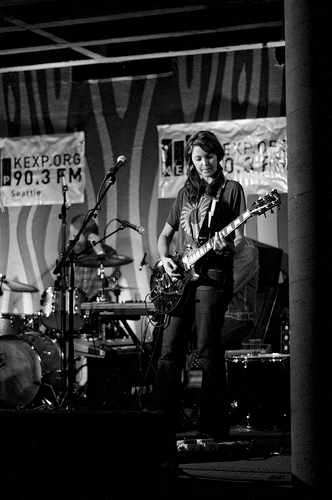 The Tallest Man On Earth, in-studio for KEXP: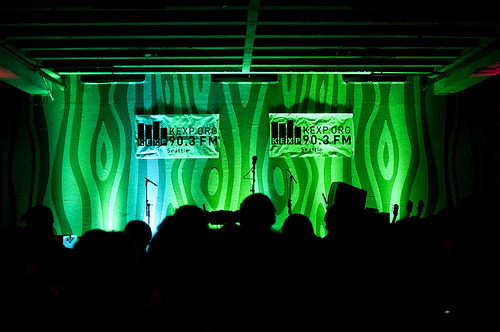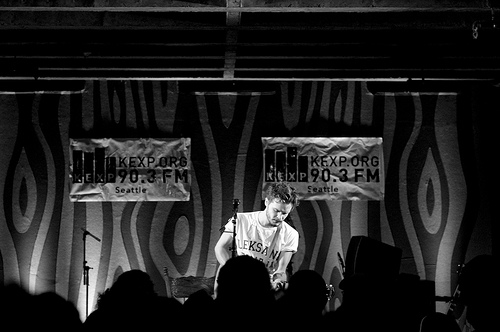 Underslept and over-caffeinated, we took to the Doug Fir for early performances by Bobby Bare Jr., The Tallest Man on Earth, and Thee Oh Sees. BBJ's big-guitar, Americana-ized indie rock (as in indie.rock 'n roll) jangled our insides awake, giving us a glimpse of what we could expect at the opening set later that evening over at the Crystal Ballroom. The Tallest Man On Earth's power mini set — a good six songs or so — followed shortly thereafter with an entire band's worth of sound, crippling our wide-awake hearts with sad stories and achy chords. And Thee Oh Sees' jangly, yeller.surfcore antics took us out on a high note — their mega-upbeat songs with a little bit of noise and a little bit of B52's-esque male / female counterpart vocals had us bouncing out the door looking forward to the rest of the night.
Bobby Bare Jr., live at the Crystal Ballroom: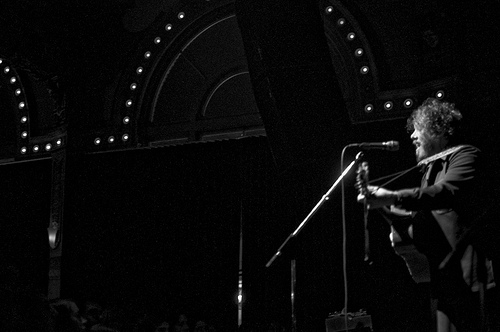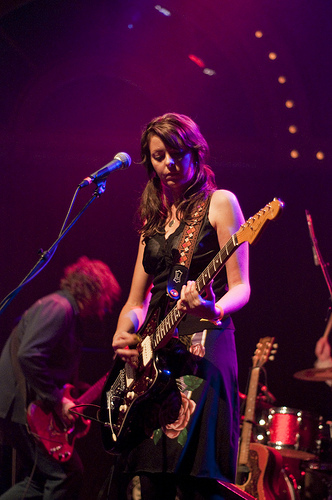 By the time the Okkervil River show rolled around, we were coming out of our skin with excitement. Good as it was, Bobby Bare Jr.'s set earlier in the day proved to be only a mild, pared-down morning version of everything he was capable of bringing — as he started up the last song of his pre-OKR set, we were dancing along saddened, hoping that it wasn't time to end his performance yet. His guitar work was enormous, the songs were fluid and transitioned well from one to the next, and the stage presence of the entire group translated fantastically. According to the chatter around me in the pit, there's a documentary on BBJ in the works — so fans of his world will definitely want to stay tuned.
Okkervil River's headlining set at the Crystal Ballroom: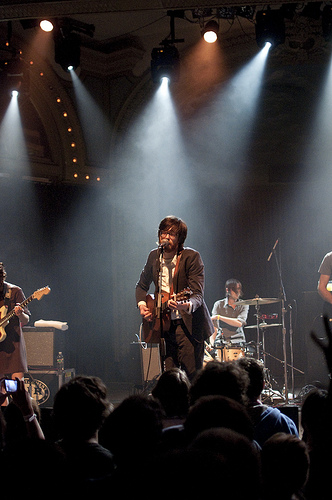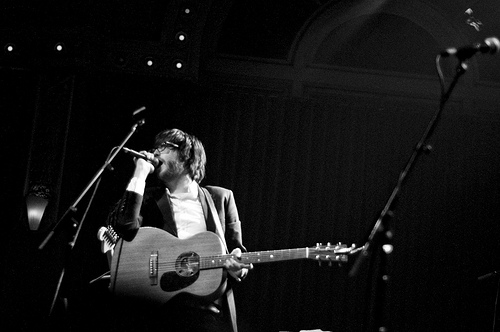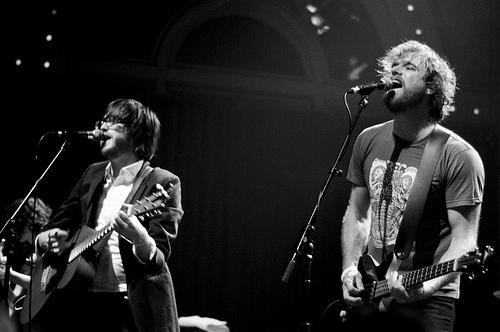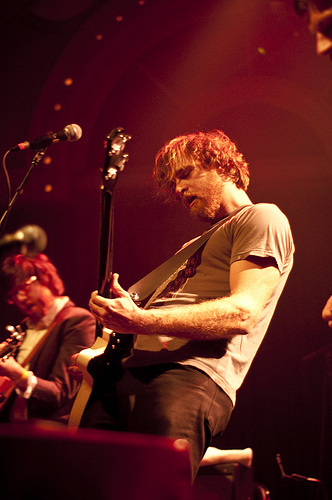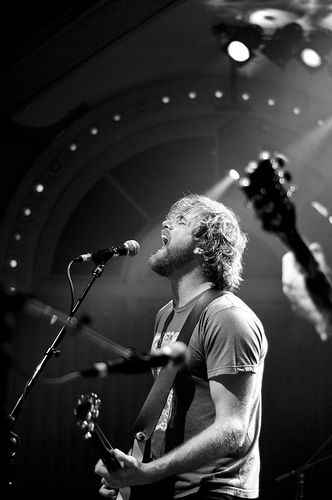 Will Sheff and company finally took the stage after another twenty minutes or so passed, and proceeded to put forth one of their best performances we've seen to date. Happy — and actually enthusiastic — about performing, they had it up at 11 for the whole show, playing songs that were better than any hand-crafted fantasy set list we could have come up with on our own. They opened their slice of the night up with "Black" (a traditional closer / end-of-set song on the 2008 tour) and managed to keep the momentum up for about ninety minutes straight — songs like "Red," "Plus Ones," "Lost Coastlines," "Black Sheep Boy," "A Girl in Port," "A Hand to Take Hold of the Scene," and "Unless It's Kicks" literally had the room bouncing along and / or standing stick-straight in reverent silence, depending on what the tone called for. It was hands-down the best performance of the weekend — so much so that if we were to see no other shows until rOctober, we would have done so fully satisfied.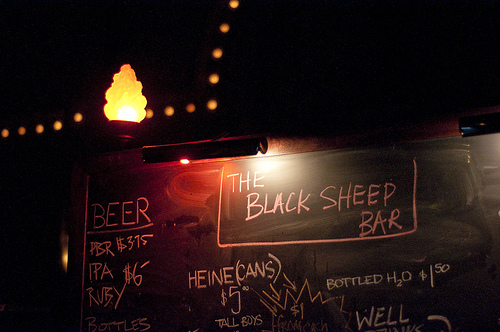 There's so much more to tell about Friday, like the stellar Tallest Man On Earth / Cave Singers set at the Doug Fir, the late-night Builders and the Butchers show, and all the amazingness that went on during David Bazan and Rocky Votolato's performances on Thursday. You can read all about the latter (and everything else that went on throughout Thursday's sets) here.
{We'll have more photos and commentary from Friday — including shots from the Tallest Man On Earth's Doug Fir nighttime show — up soon, so stay tuned! In the meantime, check out the imaginary flickr pool for more of Thursday's and Friday's photos.}