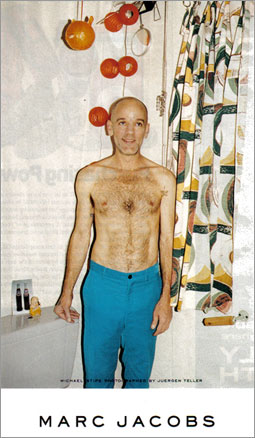 Fashion designer Marc Jacobs has chosen Michael Stipe for his fall ad campaign.
As someone who once plastered her walls with REM posters (there was even the TourFilm poster on my window shade), there's a small part of me that's freaking out. Oh the joy of finally seeing a model in those fancy magazines I actually find compelling!
Sure this move is 20 years too late (remember those striking blue eyes and beautiful long hair in the Stand video? Now THAT could have sold some turquoise pants), and I can't imagine ever being able to buy a piece of Marc Jacobs clothing… I still say BRAVO JM STIPE!
Word to TMZ for the heads up.