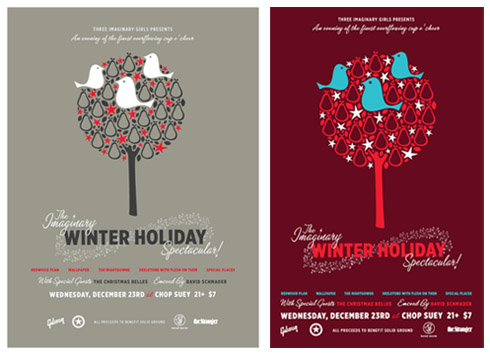 It's hard to believe, but the Imaginary Winter Holiday Spectacular at Chop Suey on December 23rd is only one week away!
Today we are giddy to unveil the posters for the show! The Spectacular is *so* spectacular it has two color combos. The poster was designed by our friends at Admiration Society and lovingly screen-printed by Seattle Show Posters – who will make limited edition huge prints of the gray version of the poster (above) available for purchase at the show.
But, if you're more in the winning mood than the buying mood, everyone who comes through the door will be given a raffle ticket (extra tickets will be available for purchase with proceeds going to charity) with a chance to win a slew of amazing prizes donated by our generous sponsors:
Cupcake Royale – Our friends at Cupcake Royale have donated 12 cupcake cards! Have you tried this month's special Figgy Pudding flavor? I sampled it last week and it brought me to my knees! Chocolately, creamy, buttery, oh my.
Easy Street Records – Win one of two Easy Street Records prize packs which include a sexy Easy Street hoodie, a pint glass and a $20 gift certificate for you pick up anything you want from the store!
Barsuk Records – Barsuk went through their closet and cleaned it out for us. For one lucky winner we've got a copy of each of Barsuk's 2009 releases and a fashionable, rugged Barsuk canvas bag.
Gainsbourg – A generous gift certificate to Gainsbourg in Greenwood that should just about cover one or more nights of sipping their fine mixed cocktails and snacking on their fancy french cheeses with your most stylish friends.
We will draw lucky raffle numbers throughout the night with the help of the Stranger's effervescent David Schmader.
We'd also love to hear your holiday tales – be them your most memorable, hilarious, surprising, or (especially) embarrassing.  If you've got a short story to tell, priceless holiday card, or memory you'd like to recount for the class, email me at [email protected]. We'll be sorting through all submissions leading up to the show and coordinate with the "most memorable" entrants. Everyone who takes the stage to share will get free entry to the show and a special imaginary prize.
Oh — and the music! We've gathered a few of our favorite Seattle bands to take the stage!
The Redwood Plan
Wallpaper
the Nightgowns
Skeletons with Flesh on Them
The Special Places
The Christmas Belles and some Sugarplum Elves will be spreading holiday cheer throughout the night.
The best part of the evening is that all proceeds will benefit Solid Ground, a Seattle non-profit that builds community to end poverty. Each year they give over 33,000 families each year the services, resources and support they need to overcome homelessness, hunger and despair. They also mobilize people to create public and private policies that are responsive to the needs of low-income people.
{Special thanks to the evening's sponsors: Gibson Guitar, The Stranger, and Seattle Show Posters.}