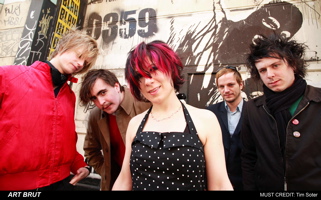 This just in…
Art Brut has just finished the band's second full-length, It's a Bit Complicated with a release date of June 26, 2007. Also, they are set to head back on the road next month (with Maximo Park).
Frontman Eddie Argos claims the new record is even poppier than the first and an early leak of the track listing includes titles like "Pump Up the Volume," "Post Soothing Out," and "I Will Survive." One of the tracks from the album, "Nag Nag Nag Nag," is available on their MySpace page. Go listen now!
And, if your feeling randy, I'm fairly certain you'll be able to access even more tracks from the yet-to-be-released album through online download services in the next hour since the record label just sent around a download of the 5 songs to the press.
April Mini Tour
Apr 17 – New York, NY @ Bowery Ballroom
Apr 18 – Brooklyn, NY @ Studio B
Apr 19 – Toronto, ONT @ The Mod Club
Apr 20 – Chicago, IL @ Subterranean
Apr 21 – Los Angeles, CA @ Troubadour
Modern Art (Brut) makes me want to ROCK OUT!