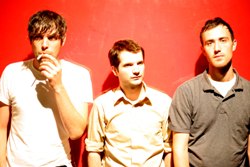 I've been on the cusp falling in love with Pants Yell! for sometime now. I listen to their last album (Recent Drama) at work quite a bit, especially when things need to be calmed down a bit. Their soft melodies whispered in my ear take things down a notch. That's a good argument to get someone on the "love" list – but alas, I just wasn't inspired to ask them out on a date quite yet.
In early December they released their third album, Alison Statton. The album is named for to the fetching front lady of indie-pop noteworthy bands Young Marble Giants and Weekend and pays homage to "failed relationships and the uncertainty of youth" in the vein of Jens Lekman and early Belle and Sebastian. More than that, this album makes me want to chase them down and beg for an evening out on the town together.
The songs on Alison Statton have the kind of bravado I've been waiting for from this Cambridge, Massachusetts trio. They still have the sweet lyrics sung with the shy boy next door cuteness – but the songs on Alison Statton have hooks with a backbone. The album's bold sprinkling of saxophone, trumpet, and organ energize the tracks making the album shine with purpose. The track that makes me the most weak in the knees is "A New City Life" — but, thankfully, they've posted my second favorite song from the album on their MySpace page. Go listen to "Magenta and Green" now.