Not to be outdone by the Yanks and their Harry Potter theme park, our Brit friends have opened up a Charles Dickens theme park: Dickens World located in lovely Kent, UK.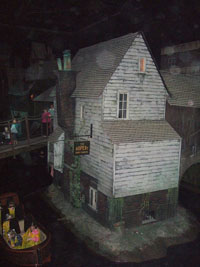 Likely to attract some randy hits via google searches, Dickens World is not only an indoor visitor complex, but also boasts one of the largest dark boat rides. Behold:
Dickens World is a brand new, innovative and exciting indoor visitor complex themed around the life, books and times of one of Britain's best loved authors, Charles Dickens. It will take visitors on a fascinating journey through Dickens' lifetime as they step back into Dickensian England and are immersed in the urban streets, sounds and smells of the 19th century.

With a host of captivating attractions, Dickens World features one of Europe's largest dark boat rides, the Haunted house of Ebenezer Scrooge, a state-of-the art animatronic show, Victorian School Room, 4D high definition show and Fagin's Den. Offering a unique showcase for one of the world's best loved storytellers, Dickens World will truly offer visitors the 'day out of a lifetime'.

Dickens World is based on a credible and factual account of Charles Dickens works and the world in which he lived. Working with The Dickens Fellowship great attention has been paid to the authenticity of the time, characters and story lines. It offers a new and entertaining way to enjoy Dickens and his characters as well as gaining an understanding of the times and conditions people experienced living in England in the early 19th century.
Can someone update their website design from its current 19th century state? Please?
And oh, my — check out the photos of newly opened Dickens World on Flickr! Check out this large, dark, boat ride (above) (thanks AngelChildVikki).