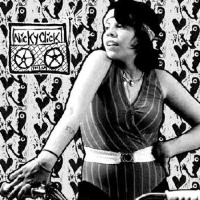 I'll be honest, I'm in a bad mood today.
The momentary pick me up? A news flash about our Queer Femme Feminist hero Nicky Click and her new album I'm On My Cell Phone (releasing Nov 13) that has arrived in my inbox.
The only sad part of the news is that she's not coming to Seattle on her tour. But, the link to this MP3 ("Don't Gotta Pay For Love") has momentarily helped me pass the time until it gets sunny out. For more clickness, listen to "I'm on my cell phone" on her MySpace page. It's like those Kelly videos are in official song form. It's not going to change your life, but it will make you giggle as you absorb party clickphrases.
A bit about NC:
Nicky Click is a producer, beat maker, video artist, songwriter and performance artist. I'm On My Cell Phone is her sophomore album out on Olympia, WA label Crunks Not Dead Records. The album is a mix of original catchy electro-pop dance music that you can truly move your body to. The songs not only have memorable hooks, but tell a diary-like story of her life and experience as a queer femme and feminist. Having started out in the Olympia, WA queercore scene four years ago, Nicky Click now resides in New Hampshire where she grew up. Fans of Peaches, Miranda July, Le Tigre take note. She was named 2006 "Emerging Artist of The Year" for her films and music by The Flaming Film Festival. She helps run the collective independent label Crunks Not Dead.
Nicky Click Live:
10/06 New York, NY Bar 13
10/13 New Haven, CT Cafe Nine
10/15 Columbua, OH East Village
10/19 Boston, MA The Milky Way
10/24 Montreal, QUE Zoo Bizarre
10/26 Ottawa, ONT Babylon
10/27 Brattleboro, VT The Tinderbox
10/28 Philadelphia, PA Palindrome
10/29 New York, NY Cake Shop
11/01 Nashville, TN The Clamshack
11/03 Adelphi, MD Paint Branch Unitarian Church
11/04 Baltimore, MD The Depot
11/16 North Brunswick, NJ Pride Center
12/14 New York, NY Don Pedro's
12/15 Philadelphia, PA The X Lounge
12/16 Providence, RI AS220