Last night I went to see my first film in the movie theater* in about six months (note: the last film I saw was For Your Consideration and I disliked it so much it's taken me this long to be willing to invest $9.50 and two hours yet again in a darkened public space). But I digress.
My point here is, we had about half an hour to roam Ballard pre-film, and while perusing the used CD bin** at Sonic Boom Records, I couldn't resisit picking up this gem….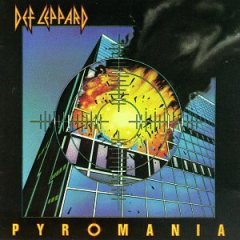 Some interesting trivia about Def Leppard's Pyromania…
It was recorded before singer Joe Elliot got vocal nodules, before drummer Rick Allen lost an arm, and before guitarist Steve Clark died. The band has certain known tragedy.
It was also recorded by Mutt Lange, before he discovered, married, and produced a pile of crappy records for Shaina Twain.
It was the first ever album where the cassette sales outsold the vinyl. 1983. I fairly certain this is true and not a figment of my bad-music-trivia-addled brain, but can't seem to find an online link to prove it. If you've got proof, share it, pretty please.
It was also a childhood favorite of mine. And while it certainly sounds dated now (I made it halfway through track #6, "Foolin'" — also known as track one, side 2 — before turning it off during my sunny morning commute today), some of those tracks surely stand the test of time; most notably, I would still call "Photograph" a nearly perfect pop song.
Your mileage may vary.
* In case you were wondering, the film in question was Ratatouille, which was great (of course, Pixar is incredible). Though I must confess, I'm rat-averse — so when they scurried about onscreen (and especially in the kitchen scenes), my tummy still churned!!
** Speaking of the Sonic Boom Records used CD bin, who is the fool who sold back Liz Phair's Exile in Guyville and Miles Davis' A Kind of Blue? And the TWO copies of the Breeders Last Splash?? Abominations!!