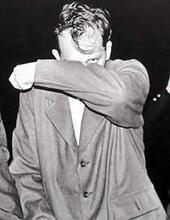 Thanks to Charles for sending me a link to the MySpace page of Northern Portrait, an unsigned band from Copenhagen, Denmark.
About 45% of the cds we receive weekly claim to share influences with them: pop music in general, the Housemartins, Echo and the Bunnymen, Jarvis Cocker and the Smiths/Morrissey in particular. But, Northern Portrait delivers 10-fold yet retain an authenticity that will make your head spin with glee.
Go listen and download (yes DOWNLOAD!) all three songs they've got a available.
Any other MySpace finds you want to share?