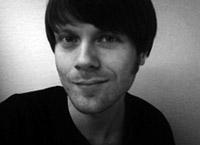 As we gushed a month or so ago, we dig on the Scandinavians — specifically David and the Citizens, Jens Lekman, Dylan Mondegreen and about 327 other brilliant musicians from that part of the world.
In an obvious effort to make our hearts flutter, Dylan Mondegreen (which is actually a band name — his name is Børge Sildnes — that's not confusing at all!) emailed us to let us know he's got a new single out, "Wishing Well." You can own it forever and ever by purchasing it on iTunes, or if you just want to gaze into his eyes from afar, you can hear it on his MySpace page. There's other new songs posted as well. I think that Dana is going to especially fancy "My Favorite Songs" — it's got that soft rock sensibility she is defenseless against.
Ah, a little Thursday love from sunny Oslo.
There's still no plans for him/them or David and the Citizens to come to Seattle anytime soon… but that wont hamper our indie-pop daydreams! We here at imaginary headquarters have a summer and fall full of delectable indie-pop. Hmm… should I start to name names? We don't want to jinx anything, but it looks like indiepop notables from Cleveland, Australia, Madison, will be gracing our Seattle stages in the coming months. We can hardly stand all the excitement.