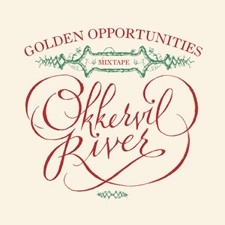 (Let's cut to the chase… start downloading it now!)
Oh, those Okkervil River boys certainly know how to make someone's day. Who knew they were so thoughtful as to surprise us with a gift like this?!?
My computer is trying to get through to their website to download this Golden Opportunities Mixtape thing to figure out what it is all about and, surely, zone out in bliss in its freshness newness Okkervil River-ness.
So, join me in this manic downloading. Here's the full scoop from Pitchfork, the folks who are like the good indie-rock news mafia:
Sometimes you love a song so much you just have to cover it, and sometimes you're pleased enough with the results to share them with the world. So it went for Will Sheff and his Okkervil River, who have pieced together a handful of choice live covers and readied them for your downloading pleasure, free of charge.

Golden Opportunities Mixtape is what they're calling it, and apart from one Okkervil original, the other eight tunes here come courtesy of folks like Serge Gainsbourg (translated to English by Sheff), John Cale, Joni Mitchell, Sandy Denny, the Fugs, and Jimmy Webb (by way of Nina Simone). All were recorded by Okkervil "at various radio stations, concerts, and empty hotel stairwells" in 2006 and 2007.

You can nab the whole thing right now– complete with digital artwork, liner notes, and your choice of audio quality– on Okkervil's website.

What's more, Sheff has made it known that he wants feedback. Golden is no random smattering of other people's songcraft; indeed, the collection boasts "loose thematic ties" to Okkervil's latest, The Stage Names. Perhaps you'd like to ask Mr. Sheff himself for more insight? Send questions to mixtape@okkervilriver.com and they just might be answered. Or inquire via the Okkervil message board, your call. Then swing over to the Okkervil website Friday (December 14) morning, where all will be revealed.

Golden Opportunities Mixtape (songwriters in parentheses):

01 April Anne (John Phillips)
02 Simon Smith and the Amazing Dancing Bear (Randy Newman)
03 I Want to Know (Charles F. Olsen/Ed Sanders)
04 Do What You Gotta Do (Jimmy Webb)
05 I Can Here to Say I'm Going Away (Serge Gainsbourg)
06 The Blonde in the Bleachers (Joni Mitchell)
07 Antarctica Starts Here (John Cale)
08 Listening to Otis Redding at Home During Christmas (Will Sheff)
09 Solo (Sandy Denny)