Big excitement, only THREE WEEKS FROM TONIGHT will be our all-ages Three Imaginary Girls all-ages fifth birthday party show at Vera.
In honor of this milestone, today we give you the GORGEOUS show post for the all-ages show (we posted the 21+ show poster yesterday). Rick from Seattle Poster Designs is a poster-designing demigod.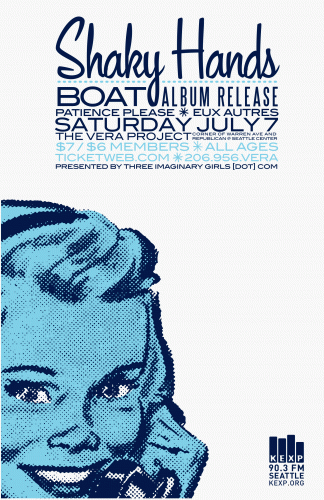 Here is the show rundown….
Friday night 7/6 at the Croc (21+)

BOAT (CD release show!)
The Shaky Hands
Dolour
The Western States Motel

Tickets are $8 in advance, $10 DOS {buy}

Saturday night 7/7 at the Vera Project (all-ages)

The Shaky Hands
BOAT (CD release show!)
Eux Autres
Patience Please

Tickets are $7, $6 for Vera members {buy}