Hana and JJ, of The Overcoats, really found each other in college at Wesleyan University. When I say that they found themselves, I mean that their meeting looked very similar to two very bright stars aligning somewhere out there in outer space, creating an even brighter star down on earth. You'll understand when you hear their harmonious voices in concert.
The Overcoats are insuperable artists. They created a stunning debut album, a 12 song album titled YOUNG, which highlights the process of growth and independence. It is evident in their social media updates that they are in support of each other just as much as they are of other artists and their community. You can find them sporting various designer's clothing and creating pieces of art. One of their massive self portraits sold for $265, all of which was donated to an organization aiding legal services to women in their home state of New York.
The Overcoats are bringing all the love to Seattle's SoDo Showbox theatre on Wednesday the 31st. They kick off the spooky evening at 8p.m. as they support Mitski, a Japanese-American singer-songwriter and musician. As of today, tickets are still on sale on the SoDo Showbox website but are going fast! You're not going to want to miss the opportunity to create a wonderful memory with these two wonderful individuals.
We hope you decide to put on your overcoat and make it out to the show.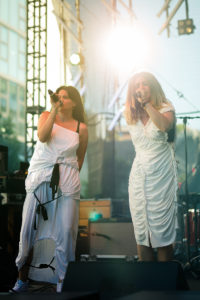 All photos: Hannah Chebeleu 2018