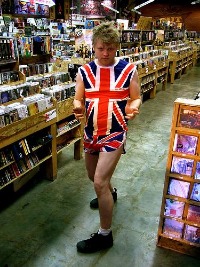 A little while back, during a KEXP pledge drive, I snapped up the opportunity to 'sponsor' Program Director/DJ Kevin Cole's boombox that resides in his office. The amount of sponsorship pride I get on a daily basis is immeasurable.
How could I top it? By bidding on one of my favorite late night DJs. OH… which to focus my bidding war on? They all have loads of reasons to love them!
This morning I feel like Troy is the one I'd like to have at my beck and call. Again, there are many reasons: he can karaoke a mean Beastie Boys song, I bet he's good at bowling, and his DJ mix and playlist are superb.
I mean, don't get me wrong, super-cool DJ El Toro, super-fab DJ Shannon, super-swell Chilly, and super-jiggy Larry are all lovable and stellar DJs (and as I write this, require a much higher bid) — so you should go bid on them while I elbow out any competitors on the Troy front.
No matter who you choose, you can be sure that he/she will make a nice addition to your holiday card photo–as illustrated by Troy Nelson in Union Jack (right). Imagine how cute he would look with a reindeer headband on!
Hurry… the bidding ends on Aug 17th!
For the full KEXP ebay store for other great bidding war opportunities — including sponsorship of the fridge or the new CD mixers!