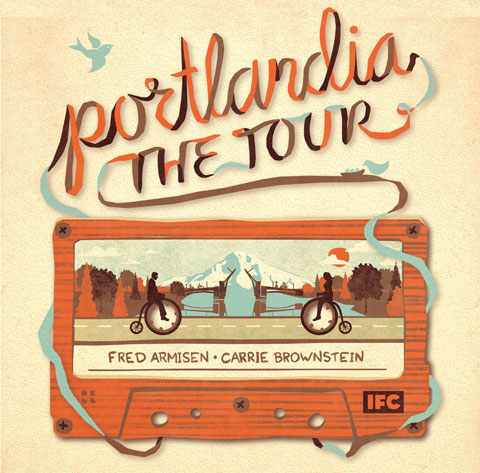 Fans of all things Carrie Brownstein have an extra reason to rejoice this holiday season: having just wound up her amazing Wild Flag tour, Brownstein and SNL's Fred Armisen have recently announced they are taking their comedy hit Portlandia on the road with a six-city tour! The duo don't just star in the series, they also co-created and wrote everything too, accounting for the ease with which the characters interact onscreen. Can't you just imagine the pair sitting in a cafe together, brainstorming and kidding around? There are so many great moments in the series, from the "Flyer Wars" skit, to one couple's quest to find out just "how local" their locally sourced meal is… whether you're a self-proclaimed hipster, cyclist, or groupie, there's sure to be a moment in the series where you find that you and your friends are gently laughing at yourselves (I, like many of us, have been known to "put a bird on it" myself).
The deadpan, absurdist series has been given the go-ahead for a second season, which premieres in early January, but if you can't wait until then, (or you're looking to console yourself for not getting tickets to the live show before it sold out), be sure to snatch up Portlandia Season One when it's released on DVD/Blu-Ray December 6th. Like all good DVD sets, it includes the entire first season, plus bonus footage and a sneak peek at what we can look forward to next year. Guest stars confirmed for season two include Johnny Marr, Eddie Vedder, Isaac Brock, Joanna Newsom and Amber Tamblyn — I can't wait to see what ridiculous characters and situations they bring to life!
Portlandia: The Tour sold out, and is set to wow Seattle Wednesday December 28th, at Showbox at the Market. Something of a variety show, the event will include Armisen and Brownstein performing music, screening clips from the show, and sharing their experiences on creating the first season. Those of you lucky enough to have tickets should expect an intimate, spontaneous and hilarious night!