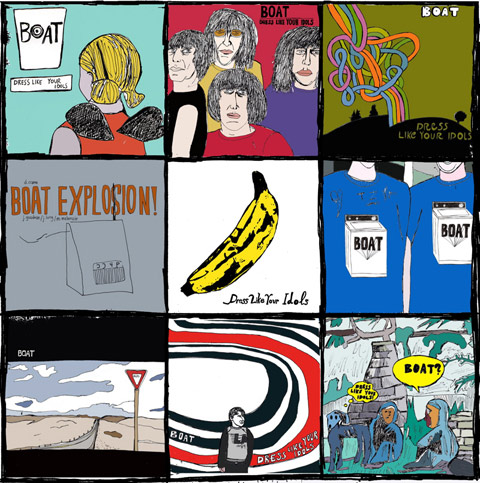 We have been lucky enough to get a sneak listen to the new BOAT album, Dress Like Your Idols, releasing March 22, 2011 on Magic Marker Records and it rocks our sloppy pop socks off.  If the album's cover art didn't give it away, the album is an aural thumbing through their personal record (and cassette tape) bins, paying homage to their influences with blatant Pixies references ("When Frank Black Says (No. 14 Baby)") and sly Pavement croons (as in "Kinda Scared of Love Affairs").  The collection of pop songs prove they are ready for prime time. They are still experts in the friendly quirk pop genre, but this time the expertly recorded songs burst with a swagger confidence (confi-pop?). And one Long Winters' inspired track, "Landlocked" even features guest vocals by John Roderick.
In true to analog BOAT cardbaord cutout form, the band has put together a special limited edition cassette gift for the first 100 pre-orders of this, their fourth studio album. The cassette features demos from Dress Like Your Idols and covers.
The ltd ed cassette's track list includes:
T-Rex "Children of the Revolution" (see video below)
Guided By Voices "Tractor Rape Chain"
Dear Nora "Make You Smile"
Linda Ronstadt "Different Drum"
Landlocked (Demo)
Classically Trained (Demo)
Noises in the Night (Demo)
Changing of the Guard (Demo)
You're On It Now! (Demo)
West Seattle Interlude (unreleased)
Plus the b side will feature a D. Crane mix-tape.
I can't wait to see what tricks and treats the band has up their sleeve when at their album release show at the Tractor Tavern on Friday, March 25 (with Pickwick and Concours d'Elegance).
[video:http://vimeo.com/20535420]