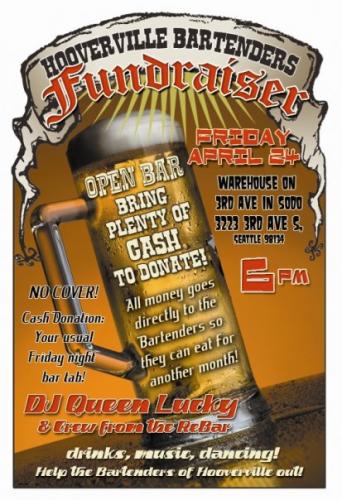 We all know times are tough… and when your place of employment burns to the ground, they're really tough.
Tonight is the Hooverville Bartenders Fundraiser with all the money going directly to the staff of the recently burned-to-the-ground establishment Hooverville.
The event is at a Sodo warehouse (3223 3rd Ave S) and starts at 6pm.  There's no cover charge and it's an open bar of sorts — you pay what you can for your libations. Basically, all of the funds that you would spend on a usual Friday out at the bar for a couple mojitos (beers, jaeger, and/or buttery nipple shots) is donated to the Hooverville bartenders so that they can eat for another month while Hooverville gets put back together. 
Music for the night will be provided by DJ Queen Lucky & crew from the ReBar.
If you're looking for something to do after (or instead of) heading to Sodo, check out the evening's possibilities on the TIG live show calendar:
The Diablotones/Bristle/Android Hero/Y.I.A., Funhouse
David Bazan, Seattle Pacific University*
Karli Fairbanks/Pickwick, Sunset Tavern {7pm}
Franz Nicolay/Mostly Dimes/Moneybrother, Sunset Tavern {late}
Shim/Slender Means/Transfer, Tractor !
The Sonics/The Wailers/Daily Flash/Tom Price Desert Classic/DeeJay Dave, Crocodile !
Nathan Wade & The Dark Pioneers/Professor Gall, Jules Maes
DJ Diem {album release}/Marias & Henta/Dave Miles Huber/Ludington GT, Neumo's
Lesbian/Brothers Of The Sonic Cloth/Greyceon/Guns Of Barisol, Comet
Donald Glaude, Last Supper Club
Atmosphere/P.O.S./Attracted To Gods, Showbox SoDo*
North Twin/Radio Nationals/Casey Neill & The Norway Rats, High Dive
Bloc Party, Showbox