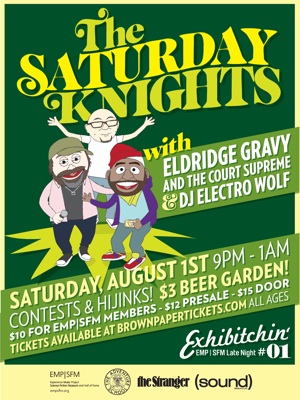 I agree with you, Amie, that Exhibitchin' sounds like a great event, where I'm sure I'll see you in a few hours, and my love of The Saturday Knights should surprise exactly no one.
I wanted to post this video to The Saturday Knight's "Count It Off" because it's on display at the EMP right now as part of the "Jim Henson's Fantastic World" exhibit. It's also getting ready to premiere on MTV2's show Subterranean this week, before added to the video rotation on MTV and its various channels.
I should note that I have posted this video here before, about four months ago. I found a(n unsanctioned) video on YouTube and posted it after getting a press release about the video's existence. Immediately after doing so, the director of the video, Travis Senger, e-mailed me to asked me to instead post the higher-quality video that was on Vimeo. At the time, I could only embed YouTube videos and my hands were tied, so the only options were to leave the lower-quality YouTube video up or take it down altogether. Now that we can embed Vimeo videos and with the timing of Exhbitchin', this seemed like a good time to make it up to him and repost the video he wanted me to originally.
The video is from Lincoln Leopard Films and was produced by Michael J. Mouncer. It looks like Tilson, Barfly and Suspence are having a blast on an episode of "Sesame Street". You can watch it here:
[video:http://www.vimeo.com/3190612]