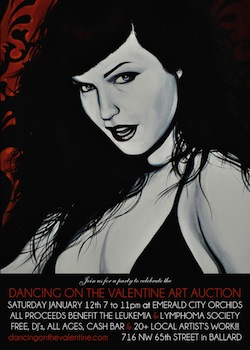 We're prepping for the always amazing Dancing on the Valentine show this year with an art auction at Emerald City Orchids this coming Saturday!
Remember how DOTV raised a record-breaking $7, 714.83 for the Leukemia & Lymphoma Society last year? This year, Jenny George wants to blow that away by raising at least $10,000!!! And we know DOTV fans can help her do it. In addition to DOTV 8: A Cure for Leukemia at Neumos on 2/9, she's put together an art auction with a sweet kick-off party:
Local artists Alex Achava, Michelle Auer, Amy Bengston, Zac Boetes, Casey Brookbush, Kate Burgau, Denise Chaudhari, Frida Clements, Rosebud Eustace, Rachel Goldstein, Ben Haley, Vanessa Kaywood, Adam MacKinnon, Liz Moody, Sarah Plein, Michael Profitt, Derek Ross, Siolo Thompson, Victoria VanBruinisse, Teresa Wahl and Jennifer Warren have created works around the themes of love and loss that are both deeply personal and universal.
The show will hang from January 6 through February 15 at Emerald City Orchids in Ballard. All proceeds from art sales will be donated to the Leukemia and Lymphoma Society.
Bidding for art pieces will be start online on 1/13/12. You will have the chance to bid on a piece or "Buy Now" at a set price. Come to the party to get a look at the pieces that are available up close and personal! There will be a cash bar, treats, and DJ sets by DJ Barbarella (Jenny George) & Doc Blammer (Blake Madden).
Dancing on the Valentine presents:
An Art Auction for Leukemia
January 12, 2013
7pm-11pm
Emerald City Orchids
716 NW 65th Street
(65th & 8th in Ballard)
I got to preview the pieces and there is a whole lotta amazing art happening up in that orchid shop – including a beautiful piece by our own imaginary Victoria! You should go to the party and make notes about what you want to put your bids on. Come party with us for great cause!