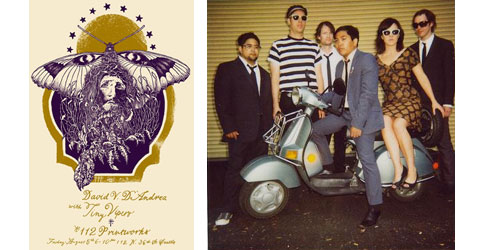 This Friday (August 5, 2011) brings a full evening of Fremont-Ballard fun.
Once we change from our work clothes into our weekend superhero outfits, let's head over to Fremont's 112 Printworks for opening night celebration, premiering a show of screenprinted art by David D'Andrea with live performance from Tiny Vipers. The beautifully understated music stylings of TV starts at 8p, which is perfectly timed to allow us just the right about a minutes to enjoy the in-printshop performance, peruse the 112 Printworks' walls of prints and get to the Sunset (allowing at least 30 minutes to find parking or a ride over there and a splash of a ThaiKu yojito).
At the Sunset, Bandolier will be celebrating their record release with a show and dance party! Kicking off the night, Detective Agency, Goldie Wilson (also celebrating the release of their cheery surfer-folk-rock CD!!!) and DJ sets by Jet City Soundsystem will take to the stage and the decks.
I have been in love with Bandolier since I first heard them a couple years ago. "Don't You Think," from their earlier self-titled release, is a particular favorite (it was on my Best of 2010 compilation) and I have high hopes for the new EP. They stand out from the racks of music coming out of Seattle today with songs that ooze retro reverb circa 1960s DooWop and sparkle with a splash of sunny California Spector. You can get a sneak preview of the new EP on bandcamp:

Are there any additional ways that we can get our Fre-lard on this weekend?