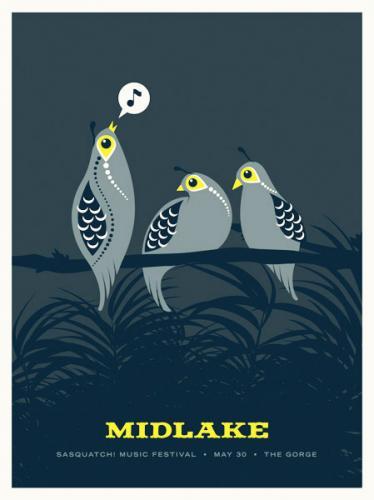 (Midlake Poster design by Corianton Hale / Sleep Op)
This year the Sasquatch Festival folks have taken their responsibility to have a handsome poster design up a notch… to the point that a gala is required to mark the Memorial Day event's magnificent design 2010 portfolio.
On Saturday, May 1, Vermillion Art Gallery & Wine Bar (1508 11th Ave, right near the new Elliott Bay Book Company) is hosting the opening gala for the Sasquatch! Posters! Exhibition from 6p-10p. For the first time in the history of the festival's yearly design invitational, we will have the opportunity to bask in the beauty of walls lined with brilliant screen-prints of the 2010 poster exhibit.  Starting at 8p, DJ Darwin of Mad Rad will be providing a soundtrack for us to browse the indie-rock art gallery by.  The Saturday opening event is 21+ but the rest of the exhibit is open to all ages and will run May 2-May 7, 2010 from 4pm – 9pm.
All of my favorite dreamy local designers will be showing at the event, and I'm sure I'm going to discover a few crushes as well. I've already spent hours on the gallery page of the Sasquatch site previewing of what kind of brilliance will be offered. I can't pick a favorite. But I can tell you that our friends Corianton Hale (Midlake), Killorn O'Neil (Mountain Goats), and Seattle Show Posters (Garfunkel and Oates) have not let us down.  For a full list of who is partaking in the fun, head over to the Sasquatch Facebook page.
Which one will you be drooling over most on Saturday night?