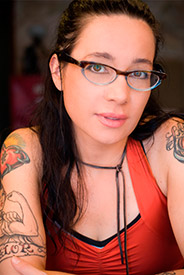 One of the things that binds us all as card-carrying Seattle swanksters is that we all want to be best friends with Janeane Garofalo. You *know* that we'd all get along famously, making our way through the hipster jungle texting escape plans to meet up at the nearest Tea Express to split pot of earl gray and review the evening's near hits and misses. We'd sarcastically laugh under our breath up until the tearistas kicked us out and we'd quote the Old 97s on our way out the door.  Or something low key and outrageously fun like that.
Next Saturday our almost-BFF will be in Seattle to film her next live DVD release over the course of two shows (7p and 9.30p) on Saturday, May 8 at the Moore Theatre.  That's how much she loves us! She wants *us/Seattle* to be a part of her next DVD!
Three Imaginary Girls would like to help bring us all together by offering you a couple seats to one of her May 8 shows. To enter to win a pair of tickets email us at tig @ threeimaginarygirls.com with a subject line letting us know which timeslot you'd like to go like so: "[email protected]" or "[email protected]" (you can enter to win tickets to both time slots). The deadline to enter is 9a May 4, 2010.