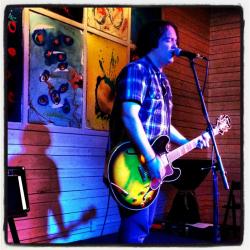 HELLO POSIES FANS! I know you're out there. And I know you'll be excited to know (if you don't already) that Jon Auer will be back in Seattle performing a one night only show in Ballard at The Volterra Drawing Room next Friday, 7/26.
For $23 (OH HO HO) you can get GA tickets, and for $100, you can get early VIP access to meet & greet Jon, partake of hosted wine and light appetizers, AND GET reserved seating! Plus, Mr. Auer will play one song of your choice during his set. There will also be a cash bar for the cocktail lovers.
Volterra's lovely owner, Michelle Q., just let me know that there are only 15 tickets left for this amazing event! And amazing, it is. I was there last time, and the setting is intimate and cozy and so much fun. Jon is a fantastic performer, and is always interacting with the crowd and playing fan favorites. It's a perfect way to spend your evening, and I highly recommend you buy tickets ASAP.
{One Night Only: An Intimate Evening with Jon Auer | Volterra Drawing Room | Friday, 7/26 | 7:30pm Doors (VIP will be let in at 7pm), 8pm Showtime}