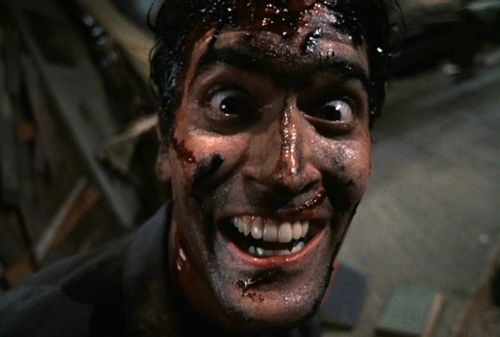 Are you among the few who've heard of Sam Raimi's Evil Dead Trilogy (mostly because people like me won't shut up about it), but haven't actually, oh you know, ever SEEN it? Well my friends, you're in luck.
Starting this Friday, 2/18, Central Cinema is showing both The Evil Dead and Evil Dead 2, followed up with an Army of Darkness Quote Along on Wednesday, 2/23. Tix are $6 adv/$8 day of for ED 1&2 (separate for each film), and $9 adv/$11 day of for the Quote Along.
The original The Evil Dead (1981) was a super-low budget flick billed as straight-up horror. Tall tales of the film's infamous "tree rape" scene haunted my pre-teen years, so when I was finally able to see it, I was surprised it was much campier than expected. Raimi took that camp to a whole new level in Evil Dead 2 (1987), which cemented Bruce Campbell as a true "B" movie icon who slap-sticked his way through demon beheadings and various disgusting fluids.
I love all 3, but my favorite has always been 1992's Army of Darkness (né: Medieval Dead), mostly because it has a fantastic homage to Ray Harryhausen's skeleton army from Jason and the Argonauts (go ahead & say it with me now: NERD!) – and well, let's face it: Bruce Campbell is f'ing hilarious. Anyway – if I were you, I'd buy tickets to all 3, but if you have to pick one, pick AoD, if only so you can yell out gems like:
"That was just pillow talk, baby"
"That's right! BIG boom stick!"
and of course…
"Hail to the King"