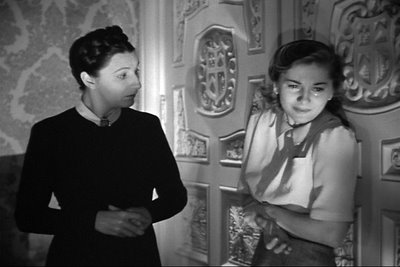 So Landmark's Metro theater is doing this awesome thing for August where they present "Metro Classics" on Wednesday nights, and for girls like me who heart the crap out of B&W noir, it's kind of a dream come true. Tonight they are presenting one of my very favorite Hitchcock films, Rebecca. This 1940 film is a mishmash of gothic romance, thriller, murder mystery, and ghost story.
Plain (ha!) little Joan Fontaine (true to the Daphne du Maurier book, her character has no name) is playing personal assistant to a bossy rich lady in Monte Carlo when handsome, brash widower Maxim De Winter (Laurence Oliver) sweeps her off her feet. Well, less sweeps – more just tells her they're going to get married, which I guess seems like a boss deal for a shy orphaned girl in the 40s. Anyway, once they get to his GIANT mansion Manderlay, the evil, lurking housekeeper Mrs. Danvers (omg Judith Anderson is amazeballs in this role) makes it clear that she'll never replace the beautiful and perfect first Mrs. De Winter – aka "the" Rebecca – who may or may not be haunting the halls of the house, scaring the bejeezus out of everyone. From there, it gets even more complicated after Joan digs into the past and discovers Maxim's "secret", which I have to admit totally surprised me the first time I saw it.
I highly recommend you get thee to the Metro tonight at 6:45pm or 9:10pm to see this Hitch masterpiece in all its gothy glory. Tickets are $10.50 general admission, or $8.25 for students w/ID.