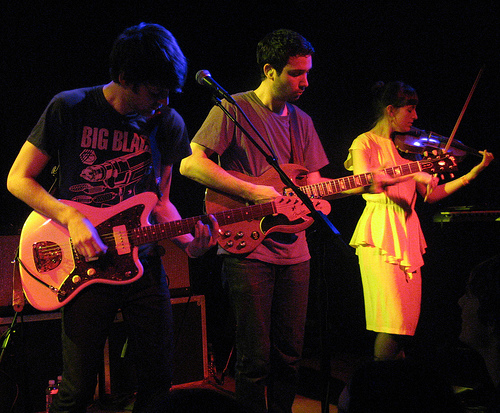 Happy Los Campesinos! Day!
I am sure I'm not the only one in Seattle counting down to see Los Campesinos at Neumo's tonight (it's all-ages). How can we not be over the moon about folks that name check our favorite mix tape bands and encompass the BuyOlympia aesthetic better than you and I?
In case you haven't memorized their YouTube library (guilty!), the band fills the stage with guitars, keyboards and a cowbell; Live, their songs take it up on the moxie scale.  Like watching Matt and Kim, the group's members are truly best friends and their absolute giddiness to share their songs together is infectious. It's hard to wipe the smile off your face post-Campesinos.
If they weren't so cute and nice and talented, it'd be hard not to hate them.  I adore them to no end, as evidenced here.
In case your looking for something a bit different, the TIG calendar offers a few other options:
Black Nite Crash/Golden Animals/Hallways/Bryan John Appleby, Comet
Guns Of Nevada/Western Aerial/Gunn & The Damage Done/The Jeremy Burk Band, Showbox SoDo
M-Pact, Triple Door*
Los Campesinos/Sky Larkin, Neumo's* !
X/The Heels/Steve Soto & The Twisted Hearts, Showbox !
Head Like A Kite/Wild Orchid Children/Partman Parthorse, Crocodile !
Benjamin Doerr/Sound Semantics, High Dive {7pm}
Eli Porter, High Dive {late}
Viva Voce/Shaky Hands/Rafter, Chop Suey !
The Ventures/The Fabulous Wailers, Moore Theatre*
Starfucker/Kuroma, Vera*
Fall Out Boy, WaMu Theater*