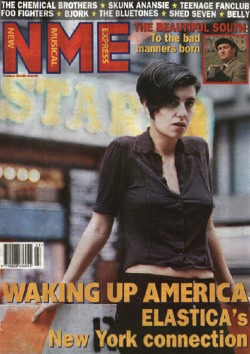 I'm not sure if you all read my iPod Roulette post yesterday (Daddy Erik is out of town so the girls get to do some guest iPod Roulettes!), but I mentioned how I'm usually not so into the female singers. It's not that I'm judgmental of those of you who can withstand your share of the lady-fronted tunes, but it's like drinking Nyquil–it is just usually not my thing.
Therefore, it is ultra-exciting when I find female-fronted bands that I am ga-ga over. Bands like The Eames Era (I just got their new album, and it is AMAZING!), Le Tigre, the Gossip, the Softies, and All Girl Summer Fun Band make me dance in the streets with their powerful XX-chromosome voices, and they give me a taste of what all you Bjork / Rilo Kiley / Dear Nora folks must feel on a regular basis.
Today I found that the Mookychick blog is spotlighting Elastica –one of my biggest girl-crushes of all time!
The post features a bit of history about my hero Justine Frischmann / Elastica and a bunch of downloadable MP3s. I'm sure most of you are familiar of when Justine and Damon ruled the NME-scene, but today's post is just a nice reminder of Justine and her legacy.
Might I suggest you brighten your day with a download of "Standing in the way of connection" (The Gossip vs Elastica) remix?
Even with the cancellation of The Fratellis' Seattle show, today is still going to rule. Thanks Justine!