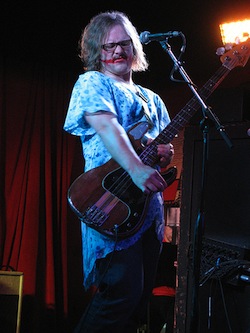 How much do we love Tennis Pro? Let us count the ways …
1) "Imaginary Girl" is naturally, one of our favorite songs. EVER.
2) They donned dresses and makeup to sing their hearts out for us at our Exile in (Imaginary) Girlville 6th Anniversary/Liz Phair cover night in 2008.
3) They interviewed The Cops for us in 2005! And then … got interviewed BY The Cops.
4. They continue to rock our socks off, leaving us exhausted from screaming until our throats are raw and dancing like maniacs during their sets.
5.) They joined us in 2004 for our Rockstar Suicide Karaoke Silent Auction Bash!
6.) AND! They are going to support us again by taking the stage at our upcoming Rockstar New Wave Karaoke Night on Friday, June 1 at Chop Suey.
We're not sure exactly what will transpire, but rumors abound that Phil will be leading the vocal onslaught, with Sean & David grabbing the mic at some point to belt their Tennis Pro hearts out.
We have our own ideas about which New Wave hits they should sing for us, but Tennis Pro's been known to buck the trends, so uh. We'll just have to see what happens!
And hey! Did you know that there is a movie coming out starting Tennis Pro? It's called Big in Japan, it's directed by John Jeffcoat, and we kind of can't wait for it to be released:
{photo of Phil Peterson at our Exile in (Imaginary) Girlville bash by Jeanine Anderson}