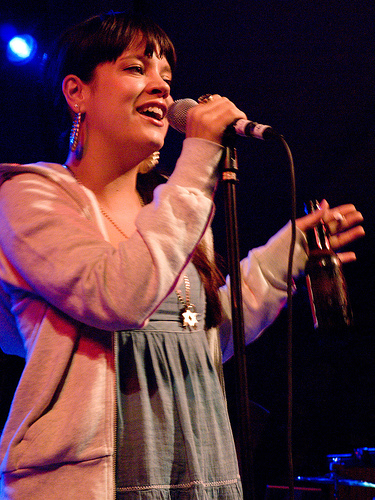 The second installment of our weekly (possibly on-going) series, here's a rundown of this week's cool Late Night TV guests. Set thy VCRs!
***Mon, April 16***
Lily Allen on LENO
(Luke Wilson is also on that night… maybe he'll mention something about brother Owen?)
The Black Keys on CONAN O'BRIEN
***Tue, April 17***
Silversun Pickups on JIMMY KIMMEL
(Paul Reubens is also on that night… in case you're still mesmerized in his Paul vs PeeWee history)

***Wednesday, April 18***
Son Volt on LETTERMAN
***Thursday, April 19***
Tokyo Police Club on LETTERMAN
OK Go on LENO
***Friday, April 20***
Ira Glass (of "This American Life") on LETTERMAN
(And if you care, which I don't because the sound of her voice makes me break out in hives, Regina Spektor will also be on the show)
OK Go on LENO
(I know… back again?)
Morrissey on JIMMY KIMMEL
(Also on the show this night is Michael Chiklis from "The Shield" VIC MACKEY in the HOUSE!)

And big things to check back in for next week?
Looks like imaginary favs Ira Glass, The Fratellis, Amy Winehouse, The Stooges, and Arctic Monkeys will be gracing late night TV the week of April 23rd. Check back in next Monday for the rundown!