Seattle band Shake Some Action has just released a live-from-the-Crocodile CD. This is exciting because:
Shake Some Action! play fabulous power-pop.
Jim Anderson, sound guy at the Croc, is amazing and captured the band directly from the sound board, to great effect.
This particular show, recorded on December 23, 2006, was both their CD release party and imaginary Liz's birthday party!
We're thrilled Shake Some Action! chose to record and document the show for posterity.
The CD will be available for purchase in iTunes in the coming weeks, but for a couple of weeks, Shake Some Action! will allow you to stream it for free right now from their website: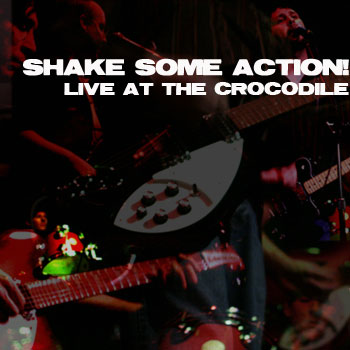 But wait, there's more! If you join the band's mailing list, you can actually download the entire record and have it for your very own.
PS ~ You can also catch Shake Some Action! live and for reals this Saturday, when they play at the KEXP Audioasis benefit show at the High Dive on Saturday. The full lineup starts at 6p and goes all night, with the following lineup"
The Cops
Coho
Shake Some Action!
The Hands
The Whore Moans
The Cops (redux)