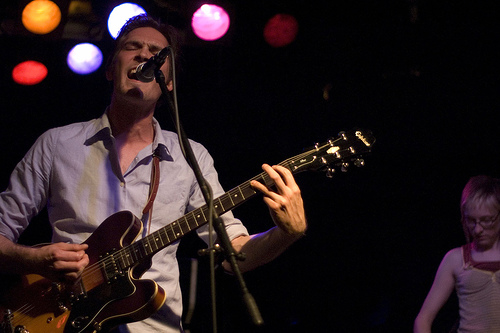 Last minute notice, but if you've been a fan of Shane Tutmarc like I have over the past few years (I think I did the first interview with him, for my fanzine Ghetto Chicken back in 2001) and you have enjoyed his recent Americana-kissed work on the back-porch passionate "Hey Lazarus" and "I'm Going To Live The Life I Sing About In My Song," don't miss him PLAYING SOLO tonight at the Rendevous' Jewel Box Theatre. 
Shane's story is incredible: The young Stevie Wonder-style prodigy who recorded the adorable and disturbing power-pop of Dolour mostly by himself, to creatively constructing Sameer Shukla's debut a couple years back that was one of my Top Twenty favorite records for that annum.
Shane is about to take off on a tour of the areas that have inspired his more recent material, two shows in Nashville for sure, after he and his band do up Noise for the Needy on June 13. Lucy Bland and other bands will be along for that show at the High Dive, and I will have a review of "Hey Lazarus" (in high rotation on my own iPod right now) up by then.
Tonight's show is Shane, again playing solo, at 10 PM, 21+, five measly dollars to get it. Come spend an intimate musical moment with a guy whose sublime musical talents only serve to make his intimacy with an audience that much more pleasurable. See you tonight!