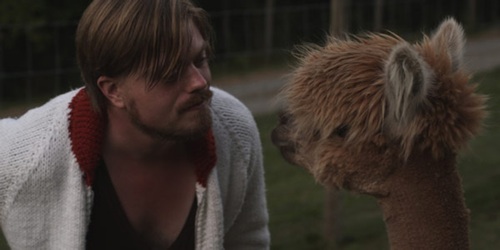 Bass Ackwards has a lot more charm than you'd expect from a film with that title. Main character Linas, played by Director Linas Phillips, is somewhat lost in the world – living on a friend's couch in Seattle and filming weddings for cash.
After a devastating break-up with the married woman he's in love with (yikes!) and a boot from his friend, he takes a job on an Alpaca ranch and contemplates suicide. But discovering a still-running VW van in the rancher's garage causes him to form a new plan: take a road trip to Boston and stay with his family to recoup.
Watching Linas encounter several interesting people (I was happy to see one of my favorite character actors, Paul Lazar, in the mix) along the way, forming friendships, and taking time to find himself, is hilarious, charming, touching, and familiar. You can't help but love this guy and root for him – as a director and an actor, he does an impeccable job of blending reality with the script to make you think and to make you care.
{Bass Ackwards screens at SIFF May 21, 9:45pm and again May 23 at 3:45pm at the Harvard Exit}