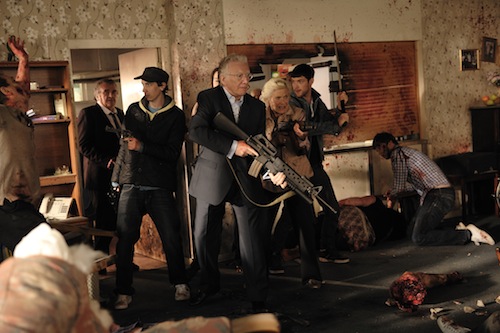 Cockneys Vs. Zombies is about a zombie invasion that breaks out in East London, which starts when a couple of construction workers accidentally break open a sealed tomb. The film focuses on two groups of people have to fight their way out of the middle of the flesh-eating infected.
The younger group is made up of two brothers and their misguided friends who attempt to rob a bank in order to save their granddad's retirement home from being sold to a huge developer. They end up bungling the job, but a zombie attack happens just as they're about to confront the waiting cops, and they escape (with a couple of hostages).
The older group is made up of the aforementioned granddad's retirement home (including Honor Blackman and Alan Ford!), but don't worry — they know how to take care of themselves. Er, well, some of them do. Just in case, though, the younger crew starts making their way across the city to save them, and, of course, both groups suffer more than a few casualties along the way.
There's plenty of good Zombie-genre jokes in the script — for instance, the fact that an old person using a walker can outrun the slow-moving undead — plus lots, and lots, and LOTS of splatter (and entrails. and decapitated heads. and bitten-off body parts). SO yeah, obviously I loved it. It's a hell of a lot of fun, and a perfect choice for SIFF's Midnight Adrenaline.
{Cockneys Vs. Zombies screens at the 39th Seattle International Film Festival on Saturday 6/8, midnight, at The Egyptian Theatre, and again on Sunday, 6/9, 8:30pm at the Kirkland Performance Center. Director Mathias Hoene is scheduled to attend both screenings}