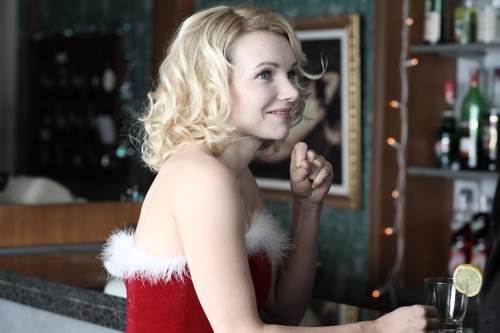 I have to admit I was skeptical about this based on the description as it could have easily been cheesy and cliche, but Poupouidou (Nobody Else but You) turned out to be an atmospheric French thriller with some pretty fantastic performances.
Detective novelist David Roussea (Jean-Paul Rove) travels to the snowy town of Mouthe for a will reading when the murder of local cheese model/weather girl Candice Lecouer sparks an idea for his next book. It seems Candice believed she was the reincarnation of Marilyn Monroe (and her path to fame and death certainly mimics the tragic star's own story).
While reading Lecouer's diaries, Roussea starts to fall for her and becomes determined to solve her murder – which proves problematic when the killer starts targeting him as well. Beautiful scenery, and I'm not gonna lie – a beautiful actress (Sophie Quinton is fantastic) – completely suck you into this film, and even though you think you know where the story's going, you're in for a few surprises.
{Poupoupidou screens at SIFF one more time, Sunday 6/12, 1:30pm at the Neptune}