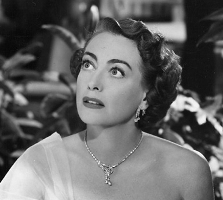 Whoa.
I just updated my SIFF '07 scorecard and realized that I passed the 100-film mark last night! If my calculations are correct, my hundredth was the trashy-licious 1950 Joan Crawford flick The Damned Don't Cry, part of an excellent (and surprisingly well-attended) evening of archival films noirs at SIFF Cinema.
Quoting Joan's character, who skips out of her drab housewife existence and ends up being a ruthless, stop-at-nothing gangster moll:
"Don't talk to me about self-respect. Self-respect is what you tell yourself you got when you got nothing else."
Wisdom for the ages. Damn, I love me some noir.
Anyway, If I'd realized I was approaching the century mark, I'd've sneaked in a flask of hooch to celebrate. Which would have been highly appropriate given the genre and subject matter.
There's less than a week to go. My recommendations and warnings for the final days can be found here.
Who else is SIFFing? What are your faves (or not-so-faves) so far?