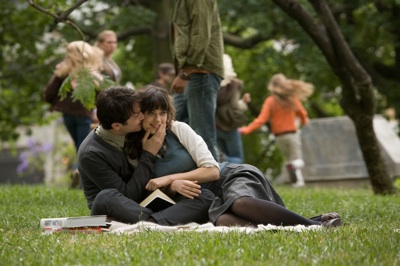 Director Marc Webb channels Cameron Crowe at his best – great conversation, lots of laughs and a killer soundtrack – with his feature debut, (500) Days of Summer. If this is where he's starting, I can't wait to see what he does next.
Sam (Joseph Gordon-Levitt, at the height of adorability) and Summer (hipster darling Zooey Deschanel) meet at the office and instantly spark. Sam has been trained all his life to believe that he'll never be happy until he finds true love, while Summer thinks love only exists as fantasy. Starting at day 488 and jumping from beginning to middle to end and back again, we go through Sam's highs and lows – ultimately learning that it's not about what happens in the end that matters, it's about what you take out of each experience.
This film puts a fresh spin on romantic comedies in a few ways, and even its overly cutesy moments (a Hall & Oates dance number in the park) totally work. I'm positive it's going to be a huge success, and I know it'll end up on my DVD "for keeps" shelf eventually.
Currently, (500) Days has a limited USA release date of July 17th listed, and Webb said at the Q&A that the soundtrack will be released July 31st, with an exclusive track by She & Him (Deschanel's band) covering The Smiths Please, Please, Please Let Me Get What I Want.
{(500) Days of Summer screens one more time at SIFF, today, June 9 at the Egyptian, 4:30pm. Director Marc Webb is expected to attend.}