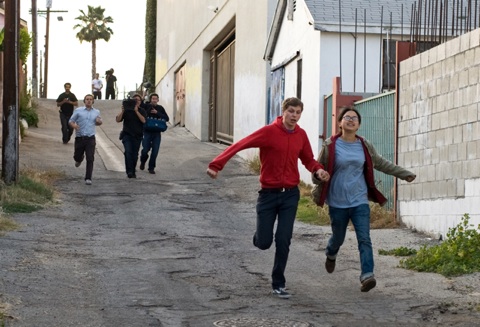 I won't lie: I knew I was going to love this film within the first 5 minutes, and they hadn't even shown Michael Cera yet. That's because Charlyne Yi (Chuck) is just as lovable, awkward and adorable as he is. No surprise, since the two are boyfriend & girlfriend in real life.
Instead of telling "the" story of how Yi & Cera fell in love, Director Nicholas Jasenovec (and Yi, who co-wrote the story) set out to show you many definitions of true love – through interviews with couples across the country, Las Vegas partiers, children, a group of bikers and Charlyne's family & friends – plus a somewhat fictionalized account of Yi & Cera's relationship. Yi's hand-made stick puppet animations add even more charm to the story.
Paper Heart is funny, charming, awkward and totally believable – semi-scripted or not. I definitely think everyone should see it.
 {Paper Hearts screens at SIFF one more time TODAY: May 24 at Uptown Cinema, 4pm. You can buy tickets online here.}