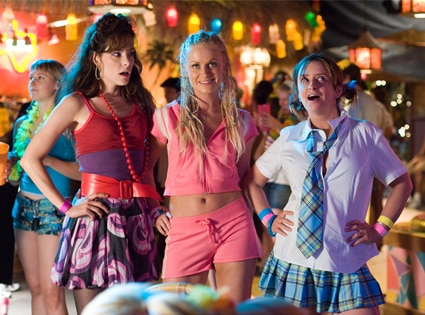 The Yes Men are corporate pranksters. They get themselves invited to corporate conferences and give speeches to unsuspecting people. The Yes Men Fix the World is their second film and it is over-the-top with the pranks that Andy Bichlbaum and Mike Bonanno get away with.
The film gets a little self-serving (like the bit about creating a wishful copy of The New York Times that is full of stories they want to see, like an end to the Iraq war or nationalized health care) but it is often laugh-out-loud funny. The Yes Men begin the movie with their most elaborate hoax: they find their way on to an interview the BBC and announce that the Dow Chemical company will contribute an eleven-digit figure to clean up a mess that a company Dow has since bought was responsible for in India twenty years prior.
When I left the theater I didn't think of my views on free trade but where I would be able to find my own Reggie Watts candle that smells like human flesh.
_____
Before the screening of Spring Breakdown, director Ryan Shiraki told the large crowd at the Neptune that he hoped the audience was at least a little drunk before the movie. His film definitely isn't a "highbrow" comedy and it could have been really atrocious.
Three ladies who have been best friends since college find themselves at Spring Break in an unlikely scenario where one has to watch over a Senator's daughter. Fortunately two of the three friends are played by Amy Poehler and Rachel Dratch, two of the funnier cast members of "Saturday Night Live" in recent memory. Both have such great comedic timing that they're able to turn a film with a weak and unoriginal plot into something very funny. It's fun to watch Poehler and Dratch, whose comedic timing is well-suited to play against the drunken debauchery of Spring Break. Shiraki knows the audience he is aiming for with this movie and filled it with lots of barely clothed young people of both genders to ogle because as one character explains "you can't spell talent without T 'n A."
{The Yes Men Fix the World screens at 11am on Saturday, May 23 at the Neptune and on Thursday, June 4 at the Kirkland Performance Center at 4:30pm. Spring Breakdown screens at the Neptune on Saturday, May 23 at 4:15pm.}